Our commitments to satisfy you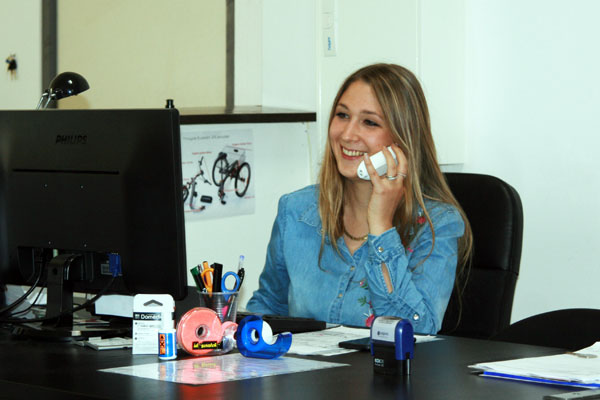 In choosing your tricycle
First step not to neglect, acquiring the necessary information is essential before any purchase. You must make sure that the tricycle you choose will suit you perfectly and that it will be adapted to the use you will make of it in the years to come. Electric or not, folding or not, suitable for all types of terrain or designed for urban use, you must also ensure that the tricycle is adapted to your size and weight!

The product data sheets of our tricycles will provide you with all the information you need and in case of the slightest doubt, do not hesitate to get in touch with us via mail on contact@damius.com or even better, by phone at +33 490 594 910.

You will also find a lot of practical information on our Blog by clicking on this link: https://www.damius.com/blog/ (in French language)

Any question? Contact us!
---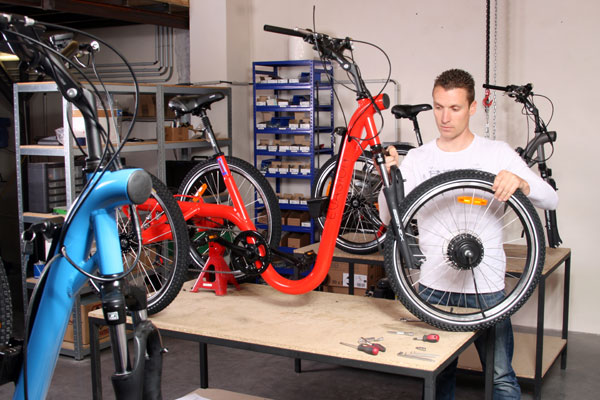 The assembly of the electric tricycle,


during which nothing is overlooked
Assembling an adult electric tricycle requires professional skills and tools. As a manufacturer, we have at our disposal all the tools and necessary skills to assemble your tricycle under optimal conditions. All spare parts are carefully checked before being mounted on the tricycle frame. Your tricycle is assembled with the accessories and options you have ordered following a rigorous set of specifications and several functional checks are made during assembly.

It takes a total of 6 hours of assembly time for a qualified technician. We make a point of carrying out this assembly on our premises to guarantee a high-level quality control. After assembly, each tricycle is checked, adjusted (brake, derailleur, ...) and tested under real conditions (gear shifting, braking, steering,...) before being packaged and shipped.

Learn more about our Evasion tricycles assembly

---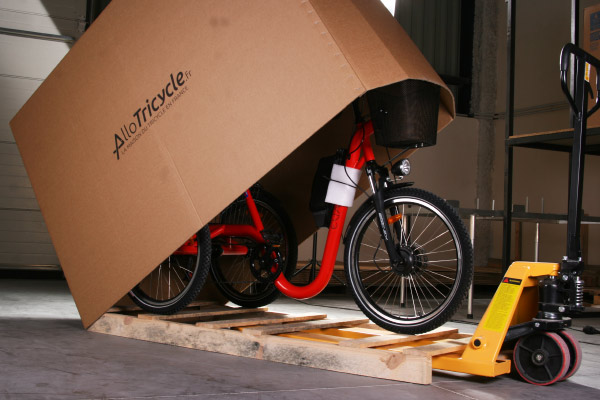 Your 3-wheeler bike delivered worry free
Since 2013, we have been working with the carrier GEODIS, specialized in the delivery of large parcels and which has managed to set up a high-performance delivery solution for individuals. Indeed, you will be kept informed via e-mail and text about the delivery of your tricycle in 2 stages. Stage 1, we let you know (via text and e-mail) once your parcel is being processed in our warehouse / Stage 2, you get another notification (via SMS and e-mail) once the parcel containing your adult 3-wheeler bike reaches the facility which will take care of the home delivery; you will then be able to choose on an online calendar the day you wish your order to be delivered.

During the entire shipping process, we are responsible for the integrity of your tricycle, that is why we have developed a custom packaging specific to the transport of our tricycles consisting of a wooden pallet which we manufacture ourselves on which the tricycle is fixed and of a very solid cardboard box that surrounds and protects it.



We are in full control of the delivery process and our solution allows us to deliver your tricycle within about 5 days if the tricycle is in stock. Your tricycle is delivered to you fully assembled with your desired options! It will have been tested before shipping to verify its proper functioning.

Learn more about our delivery conditions

---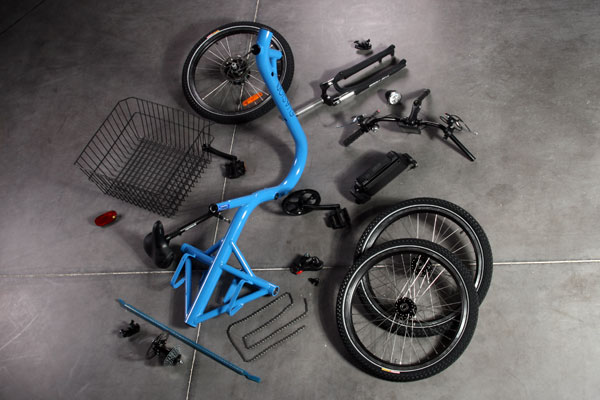 Our After Sales Service, exceptionally thorough!
As designers and manufacturers of our own products, we make a point of ensuring our own after-sales service even if you have used one of our partner resellers during your purchase. Indeed, it is essential for us to be in direct contact with a client experiencing a problem. This allows us to get some direct and accurate feedback from our customers, be as efficient as possible in finding a quick solution and thus immediately improve our production.

Of course, we stock all the spare parts of our designs, from the most technical parts to the smallest screws! We also provide our customer or the professional performing the repair or maintenance, guidance and instructions necessary for the proper diagnosis and replacement of the faulty part.

Our know-how, our experience and our rigor allow us to offer you very competitive warranty conditions compared to those of competitors. Namely a lifetime warranty on our frames, a 3-year warranty on our electric motors and a 2-year warranty on our batteries and all other components, both mechanical and electronic (excluding wear parts).

All our designs have been intelligently developed to anticipate and facilitate future maintenance. The design is therefore very robust, and the components of superior quality. This allows for almost complete reliability. Whether for maintenance or due to a possible failure, each electrical element is easily removable by the user himself (simple assembly using cross-head screws and fast electrical outlets with keying) and our electronic system, with error codes, allows us an easy and quick diagnosis.

Should a customer not be able to ensure the maintenance or repair of the tricycle himself, despite our technical guidance, we will take the responsibility to find a repairman near his home to carry out the repairs (depending on the region, they may be home-repairmen).

Our priority is to ensure total customer satisfaction

Learn about our After-Sales Service