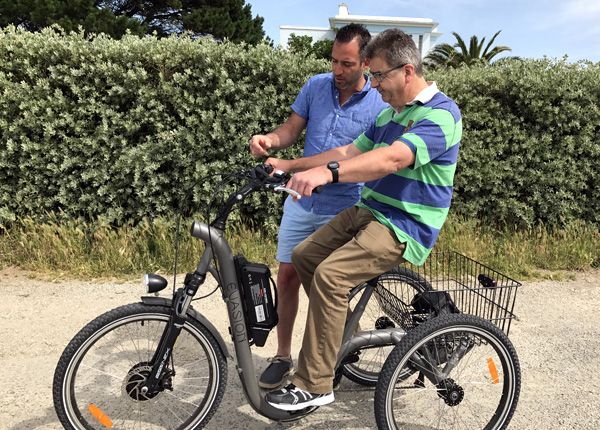 Our History, our DNA
Our history with tricycles goes back to the end of 2012! In its early days, our company positioned itself as a reseller of electric and non-electric tricycles. In no time, we enjoyed some success, and as we met with our customers and performed test-rides, our eagerness to keep offering better products grew. Helping people regain some autonomy and the feeling of freedom through the use of the electric tricycle provides our actions with a certain sense of purpose, of which we are very proud.

Through constant attention to the needs of our customers and our desire to do well, we realized that the tricycles available on the market were not perfectly suited to the people for whom they were intended. Instability, difficulty to handle, jolting electric assist... Obviously, not all the bikes presented all of these design defects, but none was perfect. Down the road, we also experienced difficulties with the after-sales service of some suppliers who were unable to provide us with the spare parts of their tricycles. That is when we understood that they were imported tricycles, hence the difficulty for these suppliers to help us with the diagnosis of breakdowns as well as the supply of defective parts.


That is why we are now developing our own electric tricycles, which we manufacture ourselves in France, and which are based on rigorous specifications making up, in our and our customers' view, for the perfect electric tricycle!

In 2016, we created the Evasion tricycle, which is today THE reference in the field of electric assist tricycles, our customers testify and we are very proud of it.

2019 marks the launch of the DAMIUS brand with the ambition to develop other products related to mobility ... The result very soon!

---



Our team = Our Know-How!
With many years of experience in the cycle business, what sets our company apart is its knowledge of manufacturing techniques, materials and components to use to achieve a result that meets the expectations of its customers. Professionalism and service culture are also part of its DNA.

In the past, its manager Damien Gran has been involved in the field motor-sports, where he built and developed rally cars. His experience now allows him to design high-quality electric assist tricycles, particularly with regard to what makes them best suited to the users electric tricycles are primarily aimed at. In his opinion, the design must be directly inspired by the functionality, another specificity of our tricycles, and so the drawing of the bike frame has been studied to be primarily practical but also modern and refined.
To internalize the entire design phase, Damien has surrounded himself with Benjamin, a qualified engineer working in aeronautics and helping him to model his ideas. This "computing" phase makes it possible to study and develop 3D creations before moving on to the manufacturing of a first prototype. For prototyping, we use several subcontractors for machining parts (depending on the difficulty) and we use a professional welder for the manufacturing of frames. The same professional usually takes care of the mass production allowing for immediate adjustments if needs be.

Flavien is in charge of the production / assembly stage, as well as the spare parts inventory management. He is also usually the one supervising tests for on-site visitors. Finally, last but not least, Cindy takes care of everything that has to do with customer advice and sales and is surely the person you will talk to on the phone or who will reply to your e-mail inquiries!

Our team brings together diverse and wide-ranging skills, which are essential to ensure the satisfaction of customers who put their trust in us!

Any question? Contact us!

---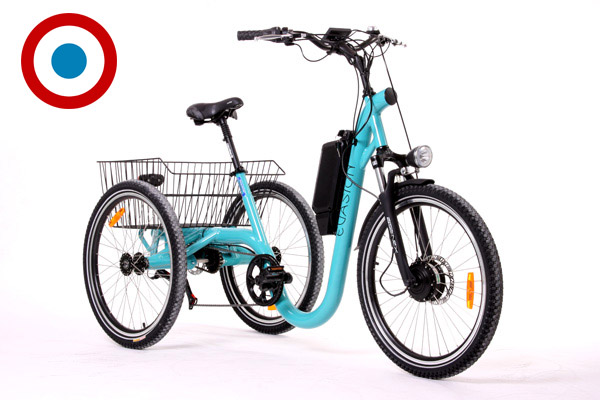 French made? Origin guaranteed!
This has been our guideline since the birth of the project. Indeed, we were aware of the dissatisfaction of people buying products they did not know were imported and of fairly basic design and production quality.

Based on this observation, we decided to provide electric tricycles of high-quality design, fully meeting the needs of the people for whom they are intended, of high quality manufacture, suitable and durable equipment along with an efficient after-sales service.

To achieve this, we have done our best to internalize as many operations as possible within our own company and we collaborate with other European manufacturers:


We take care of the entire design of our tricycles as well as the development of the prototypes

- The manufacture of the frames is made by a professional on-site welder

The assembly of the tricycles is carried out in its entirety on our premises by trained and experienced cycle mechanics

The testing of the tricycles after assembly is carried out by our technicians who also take care of the packaging and shipping

The painting of the frames is made in France in Istres by a professional known for thermo-lacquering painting

The batteries are manufactured in the south of France by a specialized professional using Lithium cells of renowned brands

The rear baskets are manufactured in a French company located in Firminy

Screws, bolts, cables and sheaths as well as accessories come from French suppliers

Handlebars, stems and seat posts come from a manufacturer in Germany

The saddles are made in Italy

Our experience, our rigorous standards of design and assembly, the selection of the best suppliers and the satisfaction of our customers are the ingredients of our "Made in France" recipe. The result is up to our expectations, what you will be able to see for yourself once you take a look our products, test-ride them, speak to our customers or read their reviews and comments!

As a guarantee of our reliability, we offer warranty terms and conditions up to par with those offered by the biggest manufacturers. Our frames are guaranteed for life, our electric motors are guaranteed for 3 years, our batteries and other mechanical or electrical components are guaranteed for 2 years!

Discover our electric tricycle Evasion!